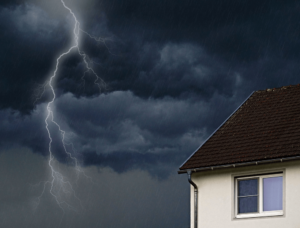 Every year in the late summer and early fall, Philadelphia and the surrounding regions are at risk of storms and flooding. In the aftermath of Hurricane Ida and other recent instances of historic flooding on the Schuylkill River, the area has seen some of the worst damage to infrastructure, homes, and businesses in a long time. Millions of dollars in property damage had to be slowly repaired well into the colder months. With the same season upon us this year, it's a good idea for home and business owners to be prepared for the potential for additional storm and flooding damage. If you are facing property damage from a storm, our team can help. ServiceMaster Professional Cleaning and Restoration provides comprehensive damage restoration in Malvern, PA and the local region, including flood and water damage, sewage removal, mold mitigation, biohazard cleanup, and other physical storm damage.
Hurricane
Hurricane Ida and the subsequent tornadoes and other weather events the storm spawned caused a significant amount of damage in Pennsylvania. Five people were killed, damage was estimated at around $2.5 to 3.5 billion, and the flooding impacted many communities around the Schuylkill River. Even though there hasn't been a hurricane on that scale yet this year, the end of summer and the beginning of fall can still bring some dangerous storms that will result in more destruction.
Storm Damage
Thunderstorms, rainstorms, windstorms, and even tornadoes are an annual occurrence across the state. These storms can cause some level of damage whenever they hit, depending on their severity and length. Some common damage these storms can leave behind include:
Roof damage from falling trees, branches, hail, wind, and water
Problems with building foundations from flooding
Flooded basements from rain and damaged plumbing
Broken windows from wind and flying debris
Electrical outages from downed power lines and damage to home power systems
Sewage exposure from sump pump failures and floods in general
Wind damage to siding and other exterior building parts
Water and mold damage caused by flooding or rain, high humidity, and other moisture sources
Damage Restoration
No matter what kind of storm damage you're facing, our team of expert damage restoration technicians can help. We provide 24/7/365 emergency cleanup services. Our team will quickly assess the damage, pack out your belongings for salvage at a secure off-site location, board up your home against weather and intruders, and begin the restoration process. With continued communication, we'll always keep you up-to-date on the process and work with your insurance providers to get the coverage you need.
To learn more about storm damage restoration in Malvern, PA and the surrounding area this summer and fall, contact ServiceMaster Professional Cleaning and Restoration today at (610) 524-8003.