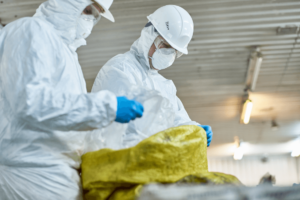 Despite the recent bust of a prolific methamphetamine drug dealing ring in Philadelphia this year, meth labs and meth distribution still remain an issue for many Chester County communities and other surrounding areas. The National Institute on Drug Abuse found in a 2020 survey that around 0.9%-1% of the U.S. population uses methamphetamine, about 2.6 million people. In 2020 alone, around 23,837 people died from a methamphetamine overdose. When meth cooking sites are discovered by the police or left behind when the occupants relocate, there are often many toxic chemicals and other dangerous substances on site. After the police forensics team collects evidence, the remaining cleanup of the space is the responsibility of the property owners. This typically means the homeowners, or more often, landlords. If you are facing the cleanup of a meth lab on your property, you shouldn't attempt it by yourself. ServiceMaster Professional Cleaning and Restoration has the expertise, protective equipment, tools, and disposal capabilities for handling any meth lab or other narcotics-cooking scenario. Our services for trauma cleanup in Exton, PA cover many crime scene recovery situations, including meth lab removal.
Meth lab trauma cleanup takes more than just a simple cleaning of the site and disposal of materials. The chemicals used to make meth and the by-products created are extremely toxic, both to you and the surrounding environment. They often create fire hazards, are dangerous to skin and respiratory systems, and require a specific disposal process for legal and safety purposes.
Chemicals
Chemicals found at meth labs often include solvents, metals, salts, and strong acids and bases. All are extremely harmful if they come into contact with skin or eyes, and some are exceptionally dangerous if inhaled. Examples of these chemicals include:
Acetic acid
Acetic anhydride
Acetone
Aluminum
Ammonia
Benzene
Benzyl chloride
Chloroform
Ethanol
Ethyl ether
Freon
Hexane
Hydroiodic acid
Iodine
Isopropanol
Lead acetate
Lithium Aluminum Hydride
Magnesium
Mercuric chloride
Methanol
Methylamine
Palladium
Perchloric acid
Petroleum ether
Phosphine
Potassium metal
Pyridine
Red phosphorus
Sodium acetate
Sodium metal
Sodium hydroxide
Thionyl chloride
Professional Trauma Cleanup
These harmful compounds and toxic chemicals are a huge reason why meth lab cleanup should only be conducted by our skilled and experienced professionals. In addition, we have the required certifications and training to properly dispose of toxic meth lab materials and return a space to its pre-loss condition.
For more information on our meth lab trauma cleanup services in Exton, PA, contact ServiceMaster Professional Cleaning and Restoration today at (610) 524-8003.