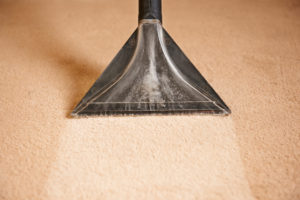 If you have carpets in your home, you probably vacuum every few weeks. Some homeowners even vacuum daily to keep dust, hair, and other soiling at bay. No matter how often you clean your carpets with a vacuum or home steam cleaner, however, they won't get as thoroughly pristine as a professional deep cleaning service can provide. Professional carpet cleaning technicians have the equipment, solutions, and skills to remove all kinds of contaminants and return your carpets to almost brand-new condition. Not only do professional services clean your carpets better than home methods; they also extend the longevity of your carpets and preserve their quality. ServiceMaster Professional Cleaning and Restoration provides comprehensive carpet cleaning in Downingtown, Pennsylvania for homes and businesses. We use proprietary commercial cleaning solutions to remove all types of dirt, powerful rinsing equipment, and grooming systems for a quick dry.
If your carpets are looking a little worse for wear, or if they have been affected by water or smoke damage, we can bring them back to life. Not only do our carpet cleaning solutions revitalize your rugs and carpets, we can also improve your indoor air quality and create a healthier indoor space.
Professional Carpet Cleaning Removes More Than Just Dirt and Dust!
Professional cleaning systems remove a wide range of debris from carpets that could otherwise pose a risk to the health of people and pets. Some of the many harmful particulates and debris removed from carpets with our cleaning services include:
Mold spores and mold growths are almost always present in most carpets. Not only is mold harmful as an allergen to most people, it can cause serious respiratory symptoms in children, the elderly, and those affected with asthma or other conditions.
Bacteria that pose a range of health risks are also prevalent in carpeting. Bacteria present in soil carried indoors on shoes can cause illnesses including anthrax, botulism, and tetanus.
In addition to bacteria, soil can carry many kinds of RNA viruses. While most of these viruses are not harmful to human health, there are some that could be the root of pandemics and epidemics. Removing viruses from your carpets also reduces the risk of harmful viruses that can be infectious to pets.
Pollen is one of the most common causes of allergies. Pollen's presence is heightened in the summer, but it can linger year-round in carpeting.
Dust mites are microscopic critters that can infest your carpets. While they don't bite, sting, burrow, or act as parasites, their fecal matter is a significant allergen.
For Cleaner Carpets and a Healthier Home, Give Us a Call Today!
In addition to removing harmful substances, carpet cleaning can greatly improve the living environment of your home by creating a healthier indoor space. To learn more about our services for carpet cleaning in Downingtown, PA, contact ServiceMaster Professional Cleaning and Restoration today at (610) 524-8003.
Reach our Westchester office at (610) 431-3553; our Newtown Square office at (610) 353-3240; and our Norristown office at (610) 354-9909. For emergencies, contact us at (610) 524-8003.