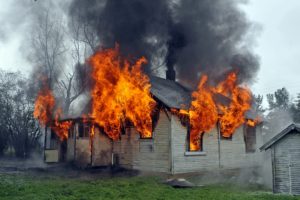 If you are experiencing an emergency, call 911. For our emergency fire damage restoration services, contact us at (610) 354-9909.
Fires are one of the most dangerous and devastating events that can affect homes, businesses, or industrial properties. Not only do building fires damage the interior and exterior of a structure through combustion and extreme heat, lingering smoke and soot after flames are extinguished can cause long-term problems. In the process of putting out a fire, water from fire hoses can also cause damage to buildings and belongings, both in immediate saturation and with the possibility of increased mold growth. Overall, fires are severely detrimental to any building material, item, person, or pet exposed. If you have experienced a fire in your home or other building, ServiceMaster Professional Cleaning and Restoration can help you through the recovery process. Our team of technicians, builders, and other experts can provide comprehensive fire damage restoration in West Chester, Pennsylvania and the surrounding areas.
Fire Damage Restoration
No matter what level of damage you are facing, we can respond with immediate recovery services 24/7/365. Our team works with you and your insurance providers to quickly and efficiently return your home to its pre-loss condition. Our fire damage restoration process starts with a full inspection of the damage and emergency pre-cleaning operations to quickly halt any issues that may pose continuing damage. We then pack-out your belongings to a secure off-site location for salvage and cleaning, board and tarp up your building to protect it from weather and intruders during the restoration process, and begin the full damage remediation process.
Not only does the full restoration process include removal of damaged materials and rebuilding; it also involves cleaning from ceiling to floor, soot removal, and deodorization.
Ventilation
Building fires cause combustion of many different materials, from lumber to dangerous chemicals. This combustion process can leave behind numerous volatile organic compounds (VOCs), vapors, and particulates that compromise indoor air quality and create unpleasant odors. To deodorize your building, the removal of soot, smoke, and burned materials is important. We also treat your ventilation systems and pump indoor air through our own high efficiency particulate air (HEPA) and ultra-low particulate air (ULPA) filters.
Odors
To further eliminate the risk of remaining odors after a fire, we seal and encapsulate lumber and apply odor counteractants to all surfaces exposed to smoke. Once all the soot, smoke, and affected materials have been removed or treated and air filtration systems have done their job, our inspection teams will ensure there are no particulates or other traces that could lead to residual odors.
To learn more about fire damage restoration in West Chester, PA and the deodorization process, contact ServiceMaster Professional Cleaning and Restoration at (610) 524-8003 today to reach our main office in Exton, PA.
You can also reach our Westchester office at (610) 431-3553; our Newtown Square office at (610) 353-3240; and our Norristown office at (610) 354-9909. For emergencies, contact us 24/7/365 at (610) 524-8003.