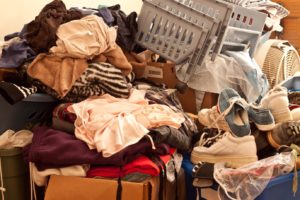 When it comes to hoarding, it can affect people of all ages and backgrounds, from middle schoolers to the elderly, and the average Joe to the upper crust. Perhaps a person can't throw away used food packages to the point that vermin have infested their kitchen. Maybe they have so much stuff in their bathroom it can't be used anymore. In any case, hoarding causes a health and safety issue for the hoarder, friends, and family. Hoarding is a clinical disorder, so it's very important that a hoarding cleanup be conducted in the proper manner to prevent any emotional harm to the hoarder. What should you do, and how can ServiceMaster Professional Cleaning and Restoration help you handle a hoarding cleanup situation?
Dress Appropriately
This is very important. Dressing in shorts and sandals puts your safety at risk. You could cut your leg on a sharp object, or step on something hazardous. Wearing pants and shirts with long sleeves is best, and you want to cover as much of your body as you can, especially in extreme hoarding situations. Use goggles and disposable gloves, too, even if it seems silly or you fear you will offend the hoarder.
Assess the Situation Before You Dive into a Cleaning
Does every room in the home need to be cleared? What does the hoarder wish to keep? What can be salvaged, and what needs to be disposed of? Once these questions are answered, you can begin the cleanup. You also need to keep in mind there may be local regulations about how and where items can be properly disposed of.
Hire a Hoarding Cleanup Company for Help
While it may seem like a great DIY project, never attempt to clean a hoarding situation on your own. Hiring a professional cleaning company with technicians that are trained and certified is your best option. Also, they know how to look for hidden dangers such as mold, which would require the need for thorough mold removal.
If you're faced with a hoarding cleanup situation in Frazer, PA and want the help of a company that can provide the required specialized assistance with a compassionate touch, give ServiceMaster Professional Cleaning and Restoration a call today. You can contact us by email or at (610) 431-3553. For a complete listing and descriptions of our other comprehensive services, please feel free to view our website.