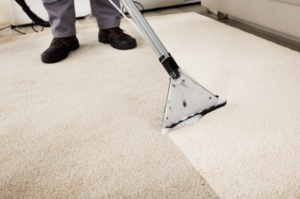 Chances are the holidays mean you'll be expecting some guests. Of the many things they'll notice as they enter your home, one of the first is your floors. If you have carpets, you know what kind of a magnet they can be for dirt and stains. Carpet cleaning by a  professional will make them appear, smell, and feel as fresh as new, and you'll feel better about celebrating the holidays.
Cleaning and Protecting Your Carpeting
Most of us do our best to take care of our floor coverings. While vacuuming carpet on a set schedule captures everyday dust. The deep-down dirt and other types of filth that creates annoying odors and shortens the life of your carpets. An option to help prolong your carpeting is to put area rugs and runners in the high-traffic areas. They are an easy solution and far more economical to replace than your carpets.
The Professional Touch to Carpet Cleaning
Our professional carpet cleaners know what you're up against. They're experienced at cleaning all kinds of floors and carpets and know how to gently revive and refresh one of the most obvious parts of your home or business. They go beyond someone who has a scrubber and a steam cleaner. They will pretreat stains and problem areas, and after they clean your carpet, they'll rinse it with clear, clean water to remove any cleaning residue. They'll then use the best methods and equipment available to ensure that your carpets are thoroughly dry.
A Deep Cleaning That Makes a Difference
The pros at ServiceMaster Professional Cleaning and Restoration know that using the appropriate cleaning methods is the only way to achieve the deep-down cleaning your carpeting requires. It starts with properly inspecting the carpeting for stains, ground-in dirt, and high-traffic areas. After treating these concerns, it's time to systematically remove the dirt and grime so your carpeting becomes fresh and properly sanitized.
Start the holiday season right with professional carpet cleaning in Exton, PA with ServiceMaster Professional Cleaning and Restoration. Increase the longevity of your carpet and know that your carpets are one less thing you need to worry about as you prepare for the holidays.
Contact ServiceMaster Professional Cleaning and Restoration of Exton, PA today to make an appointment or find out more about our carpet cleaning services. We can be reached here or at (610) 431-3553.