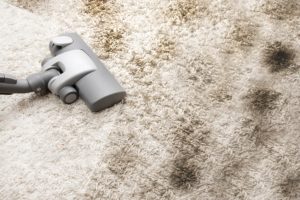 Whether carpeting is installed in a business that experiences hundreds of feet walking through it each day or in your own living room with far less traffic, the floor covering needs the same care and upkeep you would give to any other functioning aspect of your building. We all know carpets need regular vacuuming and a deep clean every now and then, but did you know most carpet companies recommend a professional cleaning and treatment of wall-to-wall carpeting one to two times a year? This may seem too frequent, but deep cleans do much more than just remove dirt and stains. A comprehensive cleaning with hot water extraction, fiber treatment, and grooming will restore your carpets to like-new conditions. This includes removing stains, odors, bacteria, grease, bugs, and more. When you take advantage of a semi-annual deep cleaning service, you will extend the longevity and protect the quality of your flooring investment. If it's been a while since your last deep treatment, we can help. ServiceMaster Professional Cleaning and Restoration offers complete residential and commercial carpet cleaning in Coatesville, PA, and the surrounding areas.
Carpet Cleaning
After a deep carpet cleaning, you'll immediately notice the difference in scent, texture, and overall freshness. Aside from a boost in quality, there are multiple other, less visible, benefits a deep cleaning provides. Some surprising statistics about what can be removed from carpets with a professional clean include:
Bed bugs: In carpeted rooms with beds, couches, and other upholstered furniture, bed bugs may lurk in the soft fabric fibers. Bed bugs can move over 100 feet overnight to seek out a blood meal. A deep clean will quickly take care of bed bug issues.
Bacteria: There are millions of bacterial bodies everywhere in our indoor spaces, most of which are harmless. Among these naturally occurring organisms, some hazardous bacteria species can be brought inside on people's shoes and pets' paws. This may include germs, such as Campylobacter and Salmonella, that can survive up to four weeks on fibers.
Viruses: Just like bacteria, some harmful viruses can live in carpet fibers for extended periods of time. For example, Norovirus, a powerful stomach flu bug, can live up to a month on unattended carpeting.
Mold: Mold spores are everywhere in our world, both inside and out. Most of the time, these spores are completely neutral, but when certain species grow into a colony, you could be exposed to mycotoxins from black mold (Stachybotrys chartarum) and other strains.
Dead skin: Humans alone shed around 1.5 million dead skin flakes each hour. This doesn't even take into account the addition of pets and other dander accumulation, most of which ends up in your carpets. These particulates aren't necessarily dangerous, but they can reduce indoor air quality and make your floors feel somewhat crusty.
Summary
All this and more can be stripped out of your carpet fibers to restore their beauty and quality with a deep clean. To learn more about carpet cleaning in Coatesville, PA, contact ServiceMaster Professional Cleaning and Restoration at (610) 524-8003 to reach our main office.