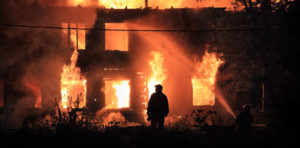 Fire and water are, in almost every sense of the word, opposites. Because of the elemental difference between fire and water, we don't typically associate plumbing issues with building fires. However, there are some instances when damaged plumbing can lead to a house fire. If you're dealing with the aftermath of a fire of any kind, you are likely facing issues with fire damage, smoke and soot residue, water damage from putting out the flames, and even damage from long-term mold growth. We can help to reverse all these problems and return your home to pre-loss conditions. ServiceMaster Professional Cleaning and Restoration provides comprehensive fire damage restoration in Exton, PA, and the surrounding region, including additional attention to mitigate water damage, mold, smoke, and soot.
Fire Damage Restoration
Our team of expert fire damage restoration technicians will go through a step-by-step process to fully recover all your belongings and repair damage to your building including:
Assessment of damage.
Pack out of belongings for restoration at a secure offsite location .
Board up of entrances and damaged openings to protect against weather and intruders.
Removal of debris, water, and any other damaged materials.
Sanitation of surfaces.
Repair of interior and exterior damage.
Dehumidification and filtration of indoor air.
Final assessment to ensure every aspect of the site is addressed.
Reversal of Fire Damage
This procedure guarantees the complete reversal of fire damage, including long-term protection against excess humidity leading to mold growth, even in the most hidden areas of the building.
Fire Damage Restoration for Structural Damage
In cases where plumbing issues lead to building fires, we may even see more aggressive damage to a structure's internal utilities, greater presence of standing water, and higher risk of electrical dangers. There are several circumstances that can cause a plumbing-related house fire.
Gas lines: The most dangerous occasion when a fire is caused by issues with plumbing is in the event of a gas line leak. Even a slight leak in a gas line is a major concern. When highly flammable natural gas is leached into the air, sparks, candles, cigarettes, and any other common source of fire can lead to deadly conditions.
Electrical panels: In some cases, a leaking pipe is adjacent to electrical paneling or wires. If the leaking water, even if it's a slight drip, begins to corrode wiring and electrical grids, it could damage it to the point where sparks and live wires become fire starters.
Pumps and other motors: Every plumbing setup has electromechanical systems in pumps and other motors. These are designed to operate for long periods of time, even up to 10 years in some cases. For this reason, damage to motors often goes unnoticed. Compromised motors may overheat, smoke, spark, and even start a fire.
Summary
These are only a few of the many causes of house fires due to plumbing issues. To learn more about the potential of a building fire or for information about fire damage restoration in Exton, PA, contact ServiceMaster Professional Cleaning and Restoration at (610) 524-8003 to reach our main office.