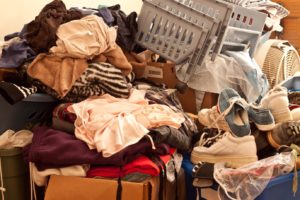 In any living space, indoor air quality can impact the health of the occupants, not to mention the overall cleanliness of surfaces, soft materials like fabric, ventilation system life span, and more. The presence of excess dust and other debris can usually be removed through heating, ventilation, and air conditioning (HVAC) filters, but if those filters are overloaded, they are often ineffective. Poorly functioning HVAC systems and old filters are common in homes where occupants cannot provide the regular maintenance required for any reason. As a provider of disaster recovery and home cleaning, ServiceMaster Professional Cleaning and Restoration reconditions many indoor spaces with poor air quality. We often see low-quality air and badly functioning HVAC systems in homes that have been exposed to hoarding. For a variety of reasons, comprehensive hoarding cleanup in West Chester, PA, and surrounding communities can restore air quality and revitalize an indoor environment.
Hoarding Cleanup
Hoarding behavior occurs due to a wide range of reasons. Hoarding disorder is a complex issue that can tie into an array of other mental health conditions. If your loved one is exhibiting hoarding behavior, they may find it very difficult to take the corrective steps toward removal of accumulated objects and cleanup of their home. However, once that step is made with the help of expert hoarding cleanup services, that indoor space and its occupants will be on the path to higher quality indoor air and better quality of life.
Hoarding Cleanup of Pathogens
In hoarding spaces often include a number of sources of pathogens, allergens, and toxins, such as:
Dust: As we live our lives, indoor HVAC and filtration systems typically handle the bulk of free floating dust particles. When those systems are compromised or can't handle the sheer amount of dust buildup, indoor air quality is reduced by the presence of broken down hair, dead skin, pollen, bug corpses, pet dander, dust mite waste, microplastics, and other particles.
Bacteria: There are thousands of types of bacteria in any given home, not just hoarder spaces. Most of these bacterial species are nontoxic, but some can make you sick. In hoarder spaces, the lack of cleaning and maintenance often leads to a greater presence of infectious bacterias, such as Staphylococcus aureus, Salmonella, and coli.
Mold: Like bacteria, mold spores are everywhere. In hoarder spaces, those mold spores can take root more easily and grow into colonies that release mycotoxins. Molds like Chaetomium, Stachybotrys chartarum (black mold), and Aspergillus are strains we often remove during cleanup.
Fumes: Some of the most dangerous substances that reduce air quality are gasses and fumes. Hoarder spaces are more likely to have damage to the home resulting in exposure to carbon monoxide or radon, and the presence of certain accumulated objects can also lead to increased chance of the presence of formaldehyde or volatile organic compounds (VOCs).
Summary
If you are ready to improve indoor air quality and restore a space with complete hoarding cleanup in West Chester, PA, contact ServiceMaster Professional Cleaning and Restoration at (610) 524-8003 to reach our main office.