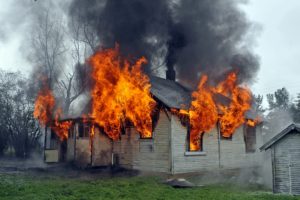 Of all disasters that can affect your home, fires can be one of the most dangerous. Not only do fires impact your home via combustion, but they also result in long-lasting soot and smoke damage if not treated with proper fire damage restoration. Additionally, the water that firefighters use to extinguish the flames lead to water damage and the potential of mold damage throughout your building. If you're facing the destruction a fire leaves behind, you should act quickly with the help of professionals. ServiceMaster Professional Cleaning and Restoration provides complete fire damage restoration in King of Prussia, PA, and surrounding communities. Our fire damage technicians will quickly perform emergency cleaning; pack out your belongings to a secure offsite location where they can be restored; board up your home to keep out weather and intruders while the recovery process occurs; clean, repair, and deodorize your entire building; and remove soot, smoke, and any lingering residue.
Fire Damage Restoration
Soot and smoke removal is a critical part of the fire damage restoration process. There are several types of smoke and soot residue that can cause both visible and invisible damage to your home as well as posing a threat to the health of those exposed.
Dry Smoke:
When fires burn wood, paper, and other natural materials at a high heat, they leave behind dry smoke. Dry smoke is powdery gray to white ash. While it's easier to clean from surfaces than other residue, it's also more likely to fall into cracks and hidden places. If these hidden spots are missed during cleaning, smoke odors will linger.
Wet Smoke:
When plastics and rubbers burn at a low heat, they create wet smoke. Wet smoke is sticky, oily, and thick, and often dark brown or black in color. It's a difficult residue to clean, and frequently has a toxic odor that is hard to fully remove.
Synthetics Residue:
When other types of plastics like synthetic fabrics used in clothing and furniture burn, they create a rapidly rising black smoke that clings to walls, ceilings, and objects. This residue can transfer to any cleaning materials or your hands so it should only be removed by professionals with specialized chemical cleaners.
 Protein Residue:
Food and other materials containing proteins leave behind sticky yellow-to-brown residues when they burn. These residues are also difficult to clean. With commercial cleaning solutions that are formulated to tackle proteins, our technicians can quickly and permanently get rid of this kind of residue.
To learn more about why smoke and soot residue need fire damage restoration in King of Prussia, PA, contact ServiceMaster Professional Cleaning and Restoration at (610) 524-8003 to reach our main office in Exton, PA.
You can also reach our Westchester office at (610) 431-3553, our Newtown Square office at (610) 353-3240, and our Norristown office at (610) 354-9909. For emergencies, contact us at (610) 524-8003.