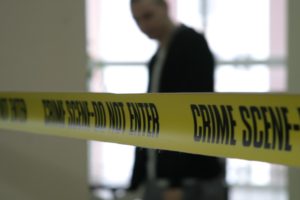 Many towns in Chester, Montgomery, Delaware, and Bucks counties are safe communities with low rates of violent crimes. However, even with low rates of crime, these areas still have several incidents every year. According to CrimeGrade.org, Chester Springs, PA, has a D rating for crime. This is above the average rating for crimes in American cities, meaning 78% of all towns are safer than Chester Springs. The most common violent crimes in Chester Springs and the surrounding communities are home invasions, armed robberies, and shootings. When violent crimes occur, often biohazards like blood and other body fluids are left behind. After police process the scene for evidence, the owner of that property is the one responsible for the cleanup of any hazards. If you have a crime scene or other scene with any hazards present to clean up, we can help. ServiceMaster Professional Cleaning and Restoration provides comprehensive trauma cleanup in Chester Springs, PA, for violent crimes, suicides, drug labs, traffic accidents, and more.
Trauma Cleanup
Violent crimes often leave behind dangerous contaminants like biohazards, but they can also leave other harmful materials. Our trauma cleanup technicians have handled a broad range of hazards at crime scenes. The presence of all these dangerous materials at a crime scene is a significant cause to seek the help of a professional service like ours to clean up, remove, sanitize, and dispose of hazards.
Some of the dangerous materials other than biohazards we've removed from crime scenes include the following:
Glass:
Violent crimes in homes or businesses often result in broken glass on surfaces. Glass can break into large shards, shatter into thousands of tiny pieces, or crack into a splintered pattern that falls apart when removal is attempted. Without the right tools and knowledge, glass removal can end in serious injury and even death.
Weapons:
Guns and other weapons can sometimes be left behind at a crime scene. If they are not included in the evidence police take, they can be dangerous to dispose of without the proper expertise and tools.
Chemicals:
The presence of hazardous chemicals at a crime scene is most common with meth labs and other sites involving the cooking or use of narcotics. These chemicals range from drug cooking materials to the finished drugs and drug use paraphernalia. Chemicals can also be present at violent crime scenes if perpetrators intended to set a building on fire, handle a corpse, or other unsavory intentions.
Crimes Cause the Need for Trauma Cleanup
There are many other hazards at crime scenes that warrant the need for trained professionals with the proper equipment in the cleanup process. To learn more about our services for crime scene and trauma cleanup in Chester Springs, PA, contact ServiceMaster Professional Cleaning and Restoration at (610) 524-8003 to reach our main office in Exton, PA.