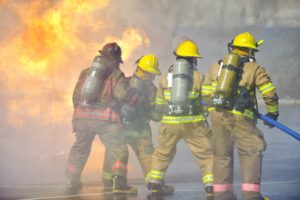 When compared to flooding, storms, earthquakes, and other causes of building damage, nothing is quite as devastating as fire. Not only do fires consume building materials and belongings, as well as pose extreme immediate danger to people or pets, they also leave behind long-term soot and smoke damage. Because fires are typically extinguished with water, buildings also face water damage and the potential of mold infestation. The "grand total" of damage that a fire leaves behind requires a multifaceted restoration process to completely reverse the effects. If you experience a fire in your home or business, you should always seek the help of a professional restoration provider. ServiceMaster Professional Cleaning and Restoration provides comprehensive fire damage restoration in West Chester, PA, and the surrounding communities. Our technicians can quickly repair, clean, salvage, and deodorize your building and the items affected by fire so you can start to put the traumatic event behind you as soon as possible.
Fire Damage Restoration:
Our fire damage restoration process includes five main steps. First, we go in with emergency pre-cleaning of the building. Then, we pack out your content to a secure off-site location where it can be cleaned and restored. Third, we board up your building to keep it safe during the restoration process. Fourth, our team cleans and repairs all surfaces, including walls, ceilings, floors, and exteriors. Finally, we provide a complete deodorization that removes any traces of soot or smoke.
The boarding up of your building and pack-out of your belongings are a critical part of our restoration.
Board-Up:
The restoration process can take several days. During this time, your building can be exposed to the elements and to intruders (human and/or animal). Board-up of your building secures your property to prevent further damage while we restore it. This part of the restoration process is compliant with municipal and insurance guidelines when a fire occurs.
Pack-Out:
The packing out of your belongings also helps keep those items safe during restoration. We bring your belongings to our secure location, where we have access to all the necessary cleaning and salvaging equipment and solutions. It would be difficult or impossible to fully restore all belongings in a fire-damaged building due to repeated exposure to soot or smoke and unequipped facilities.
If you are facing the aftermath of a fire, it's a good idea to act fast. The quicker we can assess the damage and start the restoration process, the more of your belongings and building materials we can preserve. Quicker attention to a fire-damaged building also means a lower risk of long-term issues such as mold growth and soot damage.
For more information about fire damage restoration in West Chester, PA, contact ServiceMaster Professional Cleaning and Restoration at (610) 524-8003 to reach our main office in Exton, PA.