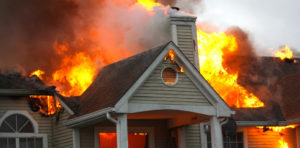 Fires are one of the worst disasters that can impact your home. Not only do the flames, soot, and smoke render almost complete destruction, in many cases, the water used to extinguish the fire also creates major damage and mold growth issues. Because of this, if you ever experience a fire in your building, you need to seek out the help of a professional restoration company for recovery. ServiceMaster Professional Cleaning and Restoration provides comprehensive fire damage restoration in King of Prussia, PA, and the surrounding areas to help homeowners and businesses alike return their property to pre-loss conditions. Our team of expert restoration technicians will quickly assess the damage and perform cleanup and repairs while we work with you and your insurance provider for support. In fact, a typical homeowners insurance policy has numerous allowances for recovery from a building fire. If you own your home, it's likely that your standard homeowners' insurance will cover all the repairs of your building and your belongings.
Fire Damage Restoration
We understand the process of recovering after a house fire involves much more than just the physical repairs of your building. Factors of grief and other emotions are part of dealing with the damage or loss of your home. To support you during this time, as a provider of fire damage restoration, our team works quickly and compassionately to allow you to return home safely.
Homeowners Insurance Coverage
The basic coverage of standard homeowners' insurance includes the following:
Dwelling: This section of your coverage addresses your house interior, exterior, and building skeleton. It covers the cost of repairs, replacement, and complete sanitation, including soot removal and mold mitigation.
Other structures: Most properties have structures detached from the home, such as garages, sheds, and fencing. Homeowners insurance covers the restoration of all these structures if they have been impacted by a fire.
Loss of use: This type of coverage will recoup your expenses from the time period you are unable to live in your home. This means as long as you live out of your home while it's being restored, insurance will cover the cost of additional living expenses. It can include anything from hotel fees to restaurant meals.
Personal property: In the majority of instances, your belongings are also affected by fire damage. These items are packed out to a secure location and salvaged during the restoration process. Your insurance will cover the restoration or replacement of all your personal property.
Personal liability: Finally, most homeowners insurance also provides personal liability coverage. This will cover legal expenses if you or a family member are responsible for property damage or injury to others. For example, this could cover legal fees if your building fire spreads to other houses in your neighborhood.
Summary
If you're facing the aftermath of a house fire, contact ServiceMaster Professional Cleaning and Restoration at (610) 524-8003 to reach our main office for more information about fire damage restoration in King of Prussia, PA and insurance coverage.