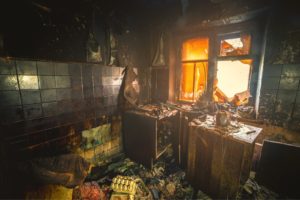 Throughout history, fires have been some of the most damaging disasters to occur to human-made structures. Great fires have destroyed thousands of cities across the world, even beating out the side effects of war when it comes to property damage. Almost every large city in the United States has experienced a severe fire at some point in time, such as the Great Chicago Fire of 1871 and the Great Boston Fire of 1872. The Chicago Fire totaled about $222 million in property damage ($5.4 billion in 2023 value calculations), and the Boston Fire ravaged around $73.5 million ($1.513 billion today). Physical damage after a fire is recognized as the main concern, but one aspect of that damage that is often not taken into account is the trace of soot and smoke left behind in soft materials. Soot and smoke are highly permeating substances because of their low particulate size and high acidity. When saturated with invisible smoke particles, soft materials like fabric and wood can start to emit foul odors and lower indoor air quality. If you are dealing with the aftermath of a fire, we can help. ServiceMaster Professional Cleaning and Restoration provides comprehensive fire damage restoration in Malvern, PA, including full deodorization with soot and smoke removal.
Smoke on Soft Fabric
Anyone who's been inside a home where someone smokes tobacco regularly knows that smoke smells stick around. In some cases, smoke can even linger for several decades in an indoor space. This is primarily because of the smoke's permeation of soft materials.
Fire Damage Restoration
Without proper fire damage restoration, smoke and soot can settle into your building materials as well, clinging to the fibers of soft and porous objects. Some common household items and materials that are particularly adept at hiding smoke and soot include:
Fabrics: There are multiple fabrics used in every home. Carpeting, upholstery, clothing, blankets, tablecloths, cushions, and even shower curtains can all become saturated with smoke and soot particles.
Paper: While paper is clearly present in books and documents, there are some sources of paper in most homes that are overlooked. For example, wallpaper, artwork, toilet paper, paper towels, packaging, and baskets can all contain odors after a fire.
Wood: Many items in homes and the building materials themselves are wooden. Home skeletons are typically built with 2×4 beams and plywood. Furniture, cabinets, flooring, doors, and other household objects are also typically wood that soot and smoke can easily sink into.
Plaster/drywall: Like wood, plaster and drywall are also prevalent in-home building materials. These materials are highly absorbent and are often waterlogged and saturated with smoke after a fire.
Summary
For all of these materials, our restoration technicians perform complete soot and smoke removal, including sanitation and deodorization. To learn more about fire damage restoration in Malvern, PA, contact ServiceMaster Professional Cleaning and Restoration at (610) 524-8003 to reach our main office.