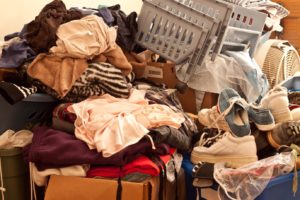 For all aspects of the cleaning industry, from janitorial services to disaster restoration, OSHA and the United States Department of Labor have strict guidelines and standards set in place to protect workers, companies, and consumers. There are many hazards involved in the cleaning industry that can pose a risk to personal safety, building conditions, and the wellbeing of anyone exposed during or after a cleanup. ServiceMaster Professional Cleaning and Restoration offers disaster cleanup for a broad range of situations. We provide comprehensive fire and water damage restoration as well as all-inclusive biohazard cleanup at scenes where crimes, accidents, hoarding conditions, and sewage have contaminated the area with dangerous materials. When it comes to any kind of biohazard cleanup, OSHA safety standards are especially important to prevent illness and injury. If you're facing a home or other building that needs biohazard cleanup, such as a space previously occupied by a person with hoarding behavior, we can help. Our team of expert technicians has the equipment, tools, solutions, and PPE needed for quick and effective hoarding cleanup in Downingtown, PA and the surrounding area.
Mental State
The mental state and situations that can lead to serious hoarding conditions are complex. People who hoard any items, pets, food, or trash are often suffering from one or more underlying mental health conditions, in addition to stressful life circumstances.
Hoarding Cleanup
If you have a space that needs hoarding cleanup, it's important to take advantage of professional services rather than attempt cleaning on your own. Our staff is trained to safely handle any of the following dangers that can be present in a hoarder's space:
Biohazards:
Human and animal waste, rotting food, blood, and drug paraphernalia are common biohazards present in hoarder spaces.
Chemicals:
Hoarder spaces are also often home to many kinds of household chemicals, including expired or damaged containers of cleaners, paints, spirits, glues, fuel tanks, and others that could be caustic to human skin and dangerous for the environment if they are not properly disposed of.
Many older homes still have outdated building materials like lead paint and asbestos in some areas. Hoarder spaces may have flaking or dust from lead and asbestos that contaminates the air as inhalable particulates.
Mold:
Without regular cleaning, homes can quickly become havens for mold colonies that release allergens and toxins. For hoarder spaces that see less cleaning and introduce greater levels of organic matter and moisture into the atmosphere, mold growth is even more likely.
For More Information
For more information about hoarding cleanup in Downingtown, PA and why it should be done by professionals, contact ServiceMaster Professional Cleaning and Restoration at (610) 524-8003 today to reach our main office in Exton, PA.