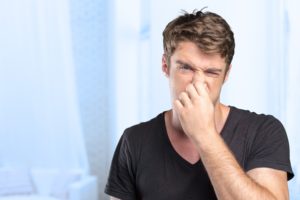 On a state-by-state basis, the EPA monitors and assesses water quality for several contaminants, including industrial and agricultural chemicals, microbes such as infectious bacteria, viruses, and parasites, and other waste materials like raw sewage. Water containing sewage is rated as Category 3 under EPA regulations. While Category 3 water can come from sewage backups in your home, flooding can also contain the same toxic contaminants from septic tanks. If your home or business has been exposed to any amount of flooding or sewage, even if the water has drained away, your family or employees could face serious health risks such as infection or reactions to mold growth. Because of the severe health consequences flooding and septic tank damage can cause, it's critical to seek professional help in the cleanup and recovery process. ServiceMaster Professional Cleaning and Restoration provides comprehensive sewage cleanup in Exton, PA and the surrounding communities.
Trained Technicians
Our restoration technicians are trained to handle the biohazards that sewage carries. They are also well equipped with the right tools, protective equipment, and sanitation systems to eliminate the risk of imminent and long-term damage to your building and the health of those exposed to the incident.
Sewage Cleanup Process
In the sewage cleanup process, we handle many of the toxic substances that are present in septic systems or carried over land during a flood. Some of these contaminants include:
• Protozoa: These single-celled organisms are used in septic systems to help the decomposition process as they consume and filter organic materials quickly. In a contained septic tank, they are harmless and even helpful, but when exposed to outside environments, they can throw ecosystem structures out of sync.
• Fungi: Several types of fungi and mold are also present in septic systems to assist in the breakdown of human waste. Fungi of all kinds can also be carried in floodwaters. The greatest risk of your building's exposure to these organisms is the growth of mold colonies that damage building materials and release toxic, inhalable spores into the air.
• Pathogens: The most significant danger of exposure to flood water and sewage is the many pathogens present in waste materials. Sewage can contain Salmonella, E. coli, and other bacteria, viruses like Hepatitis A, and parasites like Giardia.
If you're facing damage left behind after a flood or problems with your plumbing, our technicians are here to help. To learn more about how we can quickly and safely return your home or business to pre-loss conditions with our sewage cleanup in Exton, PA, contact ServiceMaster Professional Cleaning and Restoration today at (610) 524-8003.