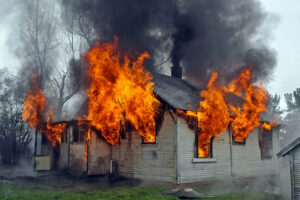 No matter what size it is, a fire in your house or business can cause serious damage in the short and long term. Immediate damage comes from the heat of the flames, combustion of building materials, and smoke exposure. Long-term damage comes from water saturation, mold growth, and extended smoke and soot exposure. Fortunately, all of the damages a fire causes can be restored, and your building can be returned to pre-loss conditions with professional disaster recovery services. If you experience a building fire, ServiceMaster Professional Cleaning and Restoration provides you with comprehensive fire damage restoration in Exton, PA, and the surrounding areas. Our team of emergency technicians is available 24/7/365 to provide complete restoration services.
Fire Damage Restoration
For any level of fire damage restoration needed, we work to assess the situation; pack out all belongings to a secure offsite location, where they can be cleaned and repaired; board up your building to protect it from the elements during restoration; clean, reconstruct, sanitize, and deodorize your entire building; and more.
Steps to Protect Your Family
If your building has just been impacted by a fire, there are steps you should take to protect your loved ones and pets, find safety, and receive financial and emotional help.
Call 911, and inspect all people and pets for injuries that require first aid. Any people or pets with serious injuries should be moved to an emergency healthcare facility. Anyone exposed to smoke inhalation or with minor burns should also seek medical attention right away.
Call any immediate family members or friends who can support you during recovery and to let them know you are safe.
Until fire authorities allow you, don't go back into your building for any reason—even after the flames are put out.
Get in touch with your home insurance agency and begin a claim. The company will guide you through the next legal steps.
Contact an emergency restoration service like ServiceMaster Professional Cleaning and Restoration for its expertise in fire damage restoration.
Find a safe, reliable place to stay for several days. Even minor fires require smoke and soot removal that can take more than 24 hours to complete. If you don't have the support of friends and family, or cannot afford a hotel/motel, resources like the Red Cross can help you find temporary housing.
Record the event and try to list every valuable item, including paperwork and documents, that was in your building.
Find support and care in the next few days to months for your mental, emotional, and physical health. There are many resources for disaster relief and counseling that are available in addition to your personal support system.
Fire Damage Can be Traumatic
A building fire is a traumatic event for you, your family or employees, and your building. In many ways, recovery can take time, but with our support, you can trust that the physical recovery of your home or business will go smoothly and quickly.
Summary
For more information about our services for fire damage restoration in Exton, PA, contact ServiceMaster Professional Cleaning and Restoration at (610) 524-8003 to reach our main office.