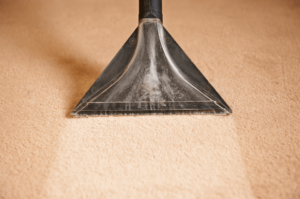 The many methods of carpet treatment and cleaning available today can make it difficult to know which are the best choices for your home or business. From hot water extraction to dry cleaning, professional carpet cleaning companies offer multiple technologies. Each method may be better or worse depending how frequently your carpets are cleaned, the type of your carpet, your budget, what materials are soiling your carpet, and how long traffic can be kept off your carpeted floor after cleaning. Many carpet cleaning companies offer a range of services that meet the specific needs of customers with different circumstances. If you are looking for a deep clean for your carpeted floors, ServiceMaster Professional Cleaning and Restoration offers comprehensive carpet cleaning in Downingtown, PA, and the surrounding area for homes and businesses.
Carpet Cleaning
For deep cleans that completely eliminate dirt, stains, and odors from your carpets, restorative hot water extraction cleaning should be done at least once a year. Carpets benefit most from a hot water extraction cleaning twice a year with at least 4 hours of dry time after each session.
Steam Cleaning Carpet Cleaning
Hot water extraction (sometimes called steam cleaning) is a carpet cleaning technique that literally forces high-temperature water mixed with cleaning solutions into your carpet's fibers. The heat of the water acts as a catalyst for the cleaning solution's reactions to dirt, loosens oils and fats, and better removes staining pigments. After the hot water and cleaning solutions are applied, a hot water rinse is implemented to pull the cleaner and dirt out of your carpet's fibers.
Best Results
In addition to providing an effective deep clean, hot water extraction also offers numerous benefits. This method of cleaning:
Kills mold and bacteria via the water's high temperature.
Is cheaper than dry extraction methods.
Reverse flood damage if your carpets have been exposed to standing water.
Does not leave residue in your carpets, unlike dry cleaning methods.
Neutralizes the pH of your carpet fibers, reducing excessive acid or alkaline damage, via the hot water extraction solutions.
Cleans area rugs off-site and allows them to be quickly dried.
Increases your carpet's longevity because it completely removes abrasive dirt and debris that gradually wear down your carpet's fibers and backing.
Results in your carpets looking and smelling better than cleaning with dry extraction.
Dry Extraction
Dry extraction can be an option, especially if your carpet requires frequent cleaning. However, these dry methods do leave minor chemical residue in your carpets, making a deep clean with hot water an important treatment throughout the year. Dry cleaning can also eliminate the risk of shrinkage and possible tearing of your carpets, but with the newest hot water extraction methods, those potential damages to your carpet aren't likely.
If you are in need of  cleaning in Downingtown, PA, or the surrounding communities, contact ServiceMaster Professional Cleaning and Restoration at (610) 524-8003 to reach our main office.