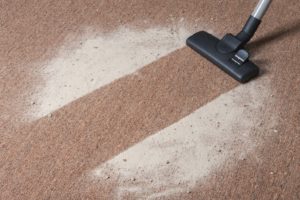 Thanksgiving, for those who celebrate it, means food, family, and fun. It means taking a moment to breathe, remembering what's important, and being thankful for what you have—all important things to do in today's hectic world. If you're lucky enough to host Thanksgiving dinner, no doubt you're looking forward to the festivities, but you may also be worrying about how to prepare—and what to do if something goes wrong. A large group of people combined with food can result in spillage and stains, especially if children are present and you have carpeting you wish to keep clean. So, what carpet cleaning tips should you keep in mind in order to walk away from this cherished holiday relatively stress free and thankful?
Eat in a Room with Hard Flooring
While many homes use carpeting almost exclusively (save for bathrooms and kitchens), consider eating in a room with hardwood or tile flooring, if you are able to do so. The hard flooring will make food spills less stressful and easier to tackle.
Place Mats and Rugs at Entrances
These items work for any time of the year, but can be especially helpful during the holidays. The more traffic you get through your house, the more likely it is that somebody will drag in dirt and grind into the carpeting.
Know How to Handle Certain Stains
A red wine stain or a gravy stain are just two examples of what can impact your carpeting during a Thanksgiving dinner. You should know how to clean these stains ahead of time so you don't panic and make the stain worse.
Call a Carpet Cleaning Company
Hiring a carpet cleaning company—even better if it also offers Oriental rug cleaning—will help you tackle stains you may have missed and ensure that your carpeting looks fresh and like new after your holiday gathering.
Contact ServiceMaster Professional Cleaning and Restoration of Frazer, PA, to use our services or find out more about trauma cleanup. We can be reached here or call us on the phone at (610) 431-3553.