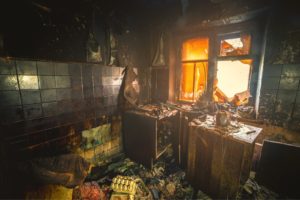 Fires are one of the most dangerous disasters that can impact homes and businesses. At ServiceMaster Professional Cleaning and Restoration, we can install smoke detectors and encourage you to keep fire extinguishers around your home, create escape routes, and fireproof many parts of your building. Despite the many ways we can help prevent a fire and prepare your home or business for a fire, we understand that many people aren't fully aware of how a fire catches, spreads, and reacts to its surroundings. The "anatomy" of all fires is generally the same, but the composition of a house fire is much different than that of a campfire or a wildfire, for example. Restoring the damages done to a building exposed to fire requires specialized solutions for soot and smoke removal in addition to content salvaging and construction repairs. If you are facing the aftermath of a building fire in your home or business, your best course of action is to seek the help of a professional fire damage restoration provider. The team at ServiceMaster Professional Cleaning and Restoration, is one  of expert technicians, builders, project managers, and customer service staff that offers comprehensive fire damage restoration in Chester Springs, PA, and the surrounding area for any level of fire, smoke, and soot destruction.
How Fires Work
To effectively return fire damaged buildings to pre-loss conditions, we have to understand how the combustion process, heat, and smoke impact the interior, the exterior, items, and even the surrounding landscape of a property. The basic anatomy of a fire makes up a triangle of three components: oxygen, heat, and fuel.
Oxygen is present in virtually all of earth's above-ground atmosphere, mixed with other gases like nitrogen and carbon dioxide. This means that oxygen is plentiful for a fire to start in any building.
Heat sources that lead to building fires come from a variety of items. Heat can come from a spark of an electrical wiring fault, candle, cigarette, kitchen stove, overheated dryer lint, and more.
Fuel in a building also comes from many sources. Once a fire is started with heat and oxygen, it can continue the combustion process with any fuel source. Building materials are rife with fuel, including wood, fabric, drywall, and more. Also, when a fire in a home meets highly flammable materials, like chemicals and natural gas, the combustion process receives a huge, extremely dangerous, leap in growth.
Combustion Process
The combustion process with oxygen, heat, and fuel is what allows house fires to wreak severe havoc. Without professional fire damage restoration treatment, a building fire can have lingering, toxic effects on a home or business.
Fire Damage Restoration
For more information about how fires work or to get started with our services for fire damage restoration in Chester Springs, PA, contact the main office of ServiceMaster Professional Cleaning and Restoration in Exton, PA, at (610) 524-8003.
You can also reach out to our Westchester office at (610) 431-3553, our Newtown Square office at (610) 353-3240, and our Norristown office at (610) 354-9909. For emergencies, contact us at (610) 524-8003.