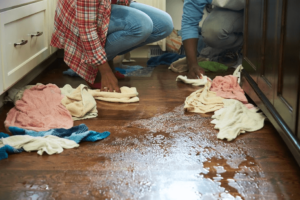 No matter how it happens, a water-soaked floor is a problem that requires immediate attention. Simply put, water will damage everything it touches. Damp carpets will grow colonies of mold and stink, and soaked hardwood floors will warp and rot. Even if water doesn't directly touch walls and ceilings, it can damage them due to the increase in humidity. These kinds of situations can't be fixed with a handful of towels! You need professional water damage restoration to ensure everything is quickly and thoroughly dried to remediate the problem.
Water Damage Restoration is Our Forte
With a top-rated team performing water damage restoration, your rooms can be back to the way they were. Through this service a wide variety of techniques are offered. Each visit starts with an assessment performed as soon as possible after your initial call – no matter what time of day or year! Once our emergency response team has inspected the damage, they can begin work on extracting, dehumidifying, and drying all water within the designated spaces. We also offer thorough rug, carpet, and upholstery cleaning and restoration. Similar techniques can be used on documents, electronics, and other personal items as well! Even structural items such as plumbing can be repaired and brought back to normal so you can keep living your life.
When Water Damages Occurs, Give Us a Call ASAP!
If your home or business in Coatesville, PA or any of the other fine communities we serve has suffered water damage due to weather or plumbing issues, contact the friendly professionals at ServiceMaster Professional Cleaning and Restoration here or at (610) 431-3553 immediately. Due to the ability of water to rapidly permeate almost everything it comes into contact with, time is of the essence when water damage occurs. For that reason, we're available 24/7/365 to perform the essential inspection and thorough water extraction and damage restoration required to efficiently get your building back on track as quickly and safely as possible.