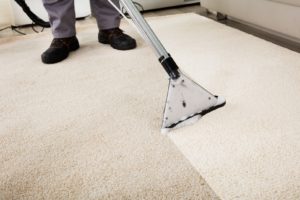 Carpets are an interior design detail installed in many different buildings from offices to homes. The benefits of carpets go beyond just an aesthetic feature as they also provide comfort, reduce indoor echoes, and act as a passive filter for dust and other airborne debris. Because carpets act as this sort of trap for various particulates, they also require routine cleaning to ensure better interior air quality and increased longevity. Any type of carpet will benefit from a weekly vacuum, but carpets need additional support in the form of a professional deep clean at least once a year. A professional deep clean revitalizes carpet fibers, removes ground-in dirt, and restores carpets and area rugs to like-new conditions. Deep cleaning also fixes a lot of common carpet flaws that occur over time. ServiceMaster Professional Cleaning and Restoration provides comprehensive carpet cleaning in Coatesville, PA, and the surrounding area for businesses and homes to preserve carpet quality or restore carpets after a flood or fire.
Carpet Cleaning
Our carpet cleaning technicians use hot water extraction to quickly and effectively remove stains, oils and grease, dirt, odors, and allergens such as mold or pollen. We also perform post-clean grooming to speed up the drying process and ensure carpet fibers sit evenly.
Thanks to our professional deep cleaning services, our previous customers enjoyed the reversal of several common carpet flaws, including:
Carpet Cleaning for Stains
Carpets are part of our daily lives, and they are often exposed to food and other substances that can cause stains. The most typical stains we remove from carpets come from drink spills and pet accidents. Even the oldest and darkest stains can be removed with a professional deep clean treatment.
Odors
Odors can accompany many kinds of debris and stains in your carpets, ranging from musty to sour, or worse. Smelly carpets are certainly an undesirable flaw. With our hot water extraction and sanitation treatments, we can quickly rid your indoor space of carpet odors.
Indentations
As foot traffic and heavy furniture presses into your carpets, they can cause indentations over time. These areas create uneven and bumpy surfaces on your floors, but with our cleaning and grooming services, those fibers are lifted and dried upright, removing even the deepest indentations.
Uneven piles
Certain types of carpets can suffer from uneven piles or piles that have been pushed in the opposite direction. Velvet, cut, and twist pile carpets can have pile reversal issues that create lighter and darker sections across the floor. These issues can be quickly remedied with a deep clean and carpet grooming.
In addition to eliminating these common carpet flaws, our deep clean services will refresh your floors and increase your carpet's shelf life. For more information about carpet cleaning in Coatesville, PA, and the region, contact ServiceMaster Professional Cleaning and Restoration at (610) 524-8003 to reach our main office.