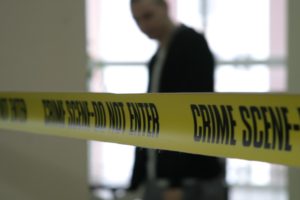 Professional cleaning or restoration services are critical in numerous situations. After a fire or a flood, building owners affected often can't perform as thorough or successful cleanup and repairs as professionals. This is also the case after a traumatic event when biohazards are present at a scene. The cleaning solutions and tools available to individual consumers in supermarkets or home improvement stores aren't strong enough to completely remove hazardous particulates that may carry blood-borne diseases and other pathogens. A professional cleaning and restoration provider will quickly and compassionately assess and treat a situation after a traumatic event. If you are handling the results of a violent or otherwise traumatic event, we can help. ServiceMaster Professional Cleaning and Restoration provides 24/7/365 emergency trauma cleanup in West Chester, PA, and the surrounding communities.
Trauma Cleanup
When a crime, death, or other traumatic events occur, the property owner is responsible for any cleanup of the scene after the authorities process evidence and document the site. Because trauma cleanup often includes the removal of biohazards, cleanup crews need extensive personal protection equipment (PPE) and powerful cleaning solutions. Some of the most common events our trauma restoration teams handle include:
Unattended deaths
Natural deaths, suicides, and other unattended deaths mean the body is often left to decompose for several days. When the death is brought to the attention of loved ones, neighbors, or authorities, the situation can involve a very complex cleanup process. After the body is removed, our team can rapidly disposes of any remaining fluids, restores items exposed to biohazards, and sanitizes the space.
Trauma Cleanup for Car accidents
Sadly, traffic accidents happen every day. In fact, the rate of car accidents in the United States is so high that some estimates calculate one fatal accident every 15 minutes. Many accidents require trauma cleanup to remove body fluids, chemicals, human tissue, and other hazards from the road after emergency response teams have finished their jobs.
Drug labs
Another common scene with a surprising amount of biohazards that requires trauma cleanup is an illicit drug lab. Methamphetamine and fentanyl labs, in particular, have biohazards such as used needles and body fluids present as well as multiple toxic chemicals and highly flammable materials. Fentanyl itself can be a dangerous airborne substance, making it particularly hazardous to clean a fentanyl lab without the proper protection.
Crime scenes
A wide variety of violent crime scenes requires professional trauma cleanup services. Biohazards present at many crime scenes could expose anyone present to human immunodeficiency virus (HIV); hepatitis A, B, and C; E. coli, methicillin-resistant Staphylococcus aureus (MRSA), and many other pathogens. With our protective equipment, experience, and solutions, our team is ready to safely handle any dangers at a crime scene.
For any of these scenarios or another event involving biohazards and various toxic substances, we can provide complete cleaning and restoration. To learn more about trauma cleanup in West Chester, PA, contact ServiceMaster Professional Cleaning and Restoration at (610) 524-8003 to reach our main office.